Welcome to Flying C Quarter Horses!
Enjoy looking around, checking out the horses, and examining the blood lines.
I bought my first cutter in 1992 and began a breeding program in 1999. Now all of my horses are home grown. My base line brood mare was Mindy Quil, an own daughter of Quilchina Bar, (Doc Tari x Bar San x Leo San). I showed her full brother, Burr Quil, with some success for about 10 years. Now her daughter by Playin Stylish, CR Stylish Cheena is my primary brood mare. I have been breeding to stallions with top show records and earnings. Also these horses produce offspring with good looks, a lot of bone, and tons of cow. My horses have to be solidly built as I am 6'-5" and weigh 270 and if I am to have any success in showing them, they have to stay sound.
Please look through my reference stallions to confirm. My 2 y/o filly, Stylish Lil Pepto, is in training with Turner West. We are very happy with her athletic ability and her progress so far. I have two yearlings, Mr Peppys Gateaux and Miss Peppys Style, that are maturing nicely. Cheena just foaled a stud colt by Sannman that is really nice. Photos of all these young horses are in the 'Horses For Sale' section. Also in this section are photos of two other mares that are for sale, CR Playin Lela San, (a full sister to Cheena) and CR La Gata Bonita, (a half sister to Cheena by Fantastic Cat).
If any of these horses interest you, contact me at jcr5270@gmail.com or call at 512.750.8528.

Thank you for visiting my web site.
Craig Robinson

Congratulations to Chris Johnsrud and CR Stylish Lil Pepto for their stellar performance at the Metallic Cat West Texas Futurity!
'Moonie' marked a 219.5 in the first go round to tie for the lead, a 220 in the second go to take the high score total into the finals. She marked a 215 to tie for 5th place in the show.
---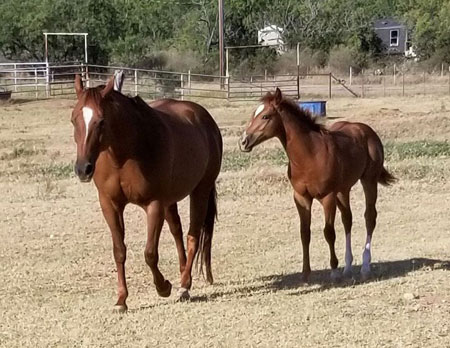 The foals are arriving.
Click here to view.